Our 2016 AMTRAK trip to New York!
We decided to take the train to New York rather than drive. We love the train, but you've got to have the time.

When we drive, we usually opt to drive straight through, and it usually takes us about 18 hours each way, with stops. It takes about $200 in gas and tolls for the 2000 mile roundtrip. To take the train, all routes east go through Chicago from St Louis and it is about a 5 hour trip to the Windy City. From Chicago to New York takes about 19 hours and there is always a layover in Chicago. For this trip, we had a 7 hour layover, so I scoped out some activities to keep us busy.

The tickets cost us about $515 for both of us, round trip. We traveled coach, very wide comfortable seats, but no privacy. The cheapest private compartment usually doubles the price of your tickets. I think we both got some sleep during the night, and I felt rested when we arrived, unlike after an 18 hour drive when I am toast.

For our 4 day stay, we brought 4 suitcases (all carry on, we checked no bags), a pillow, and a blanket stuffed in a pillowcase, which we ended up not needing. One small suitcase was filled with books and snacks.

Alton is closer to us than downtown St Louis and they have a decent parking lot to leave your car.

See where AMTRAK can take you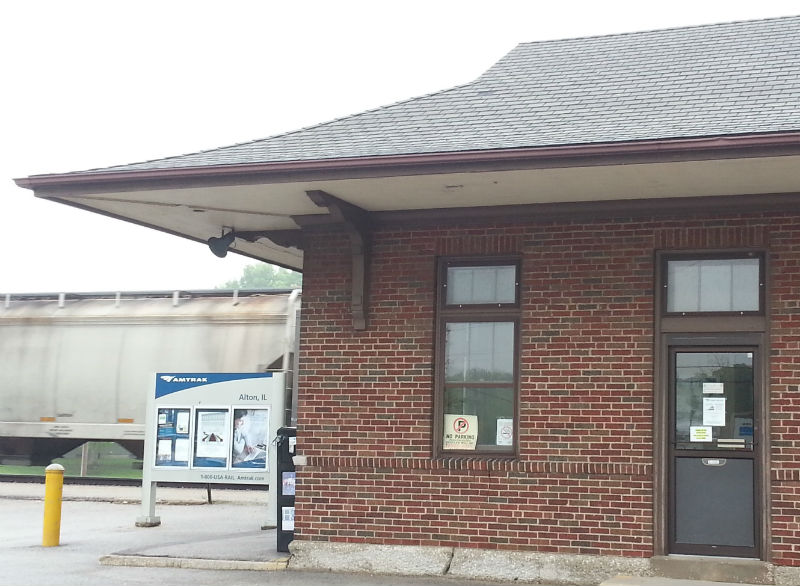 27 April at 08:24 Alton, IL
Chicago bound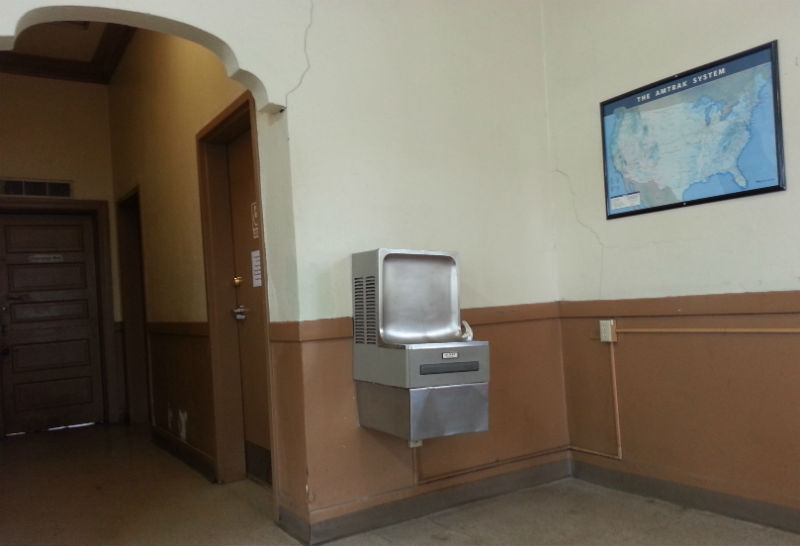 no frills here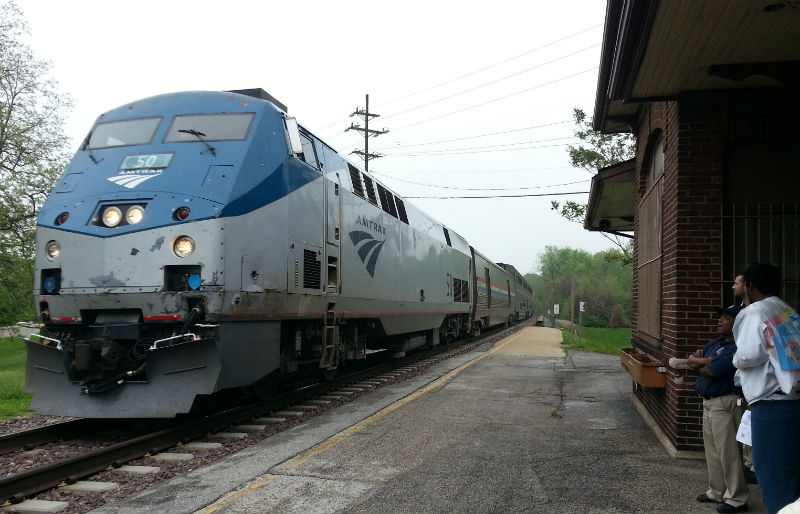 about an hour late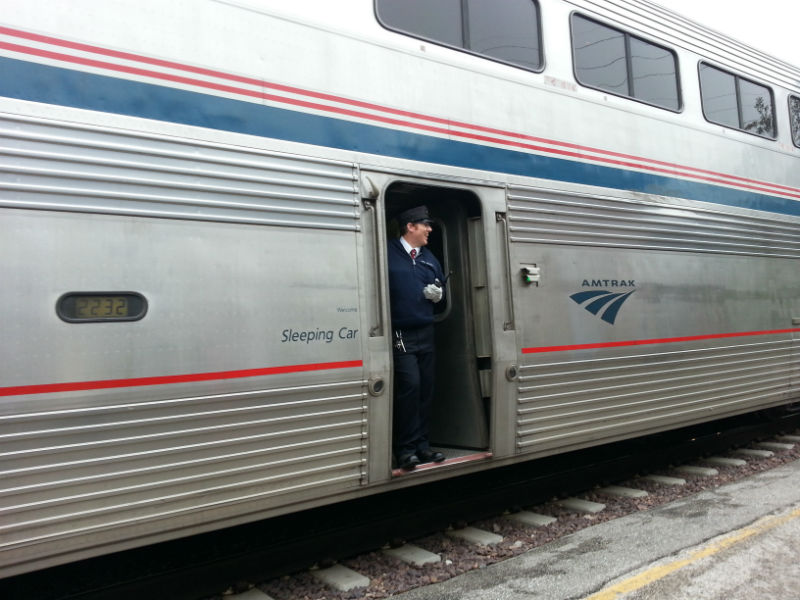 feeling excited at Amtrak.

27 April at 10:08 Alton, IL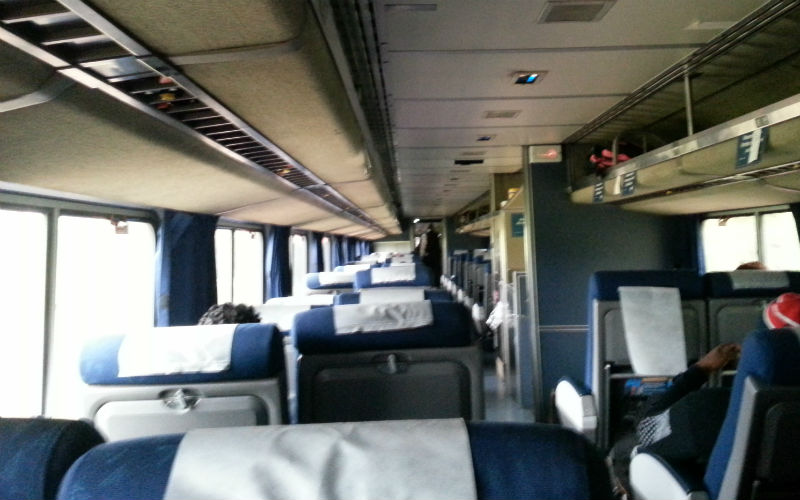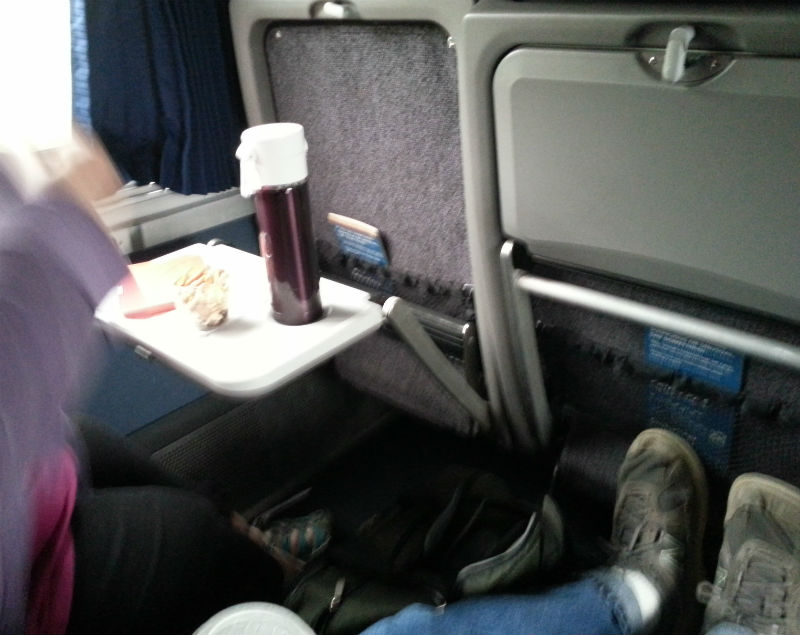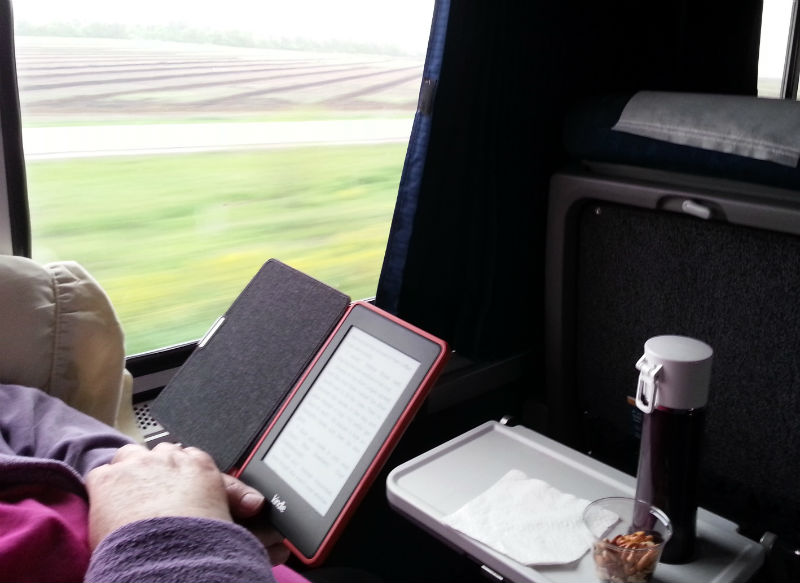 27 April at 11:12 Springfield, IL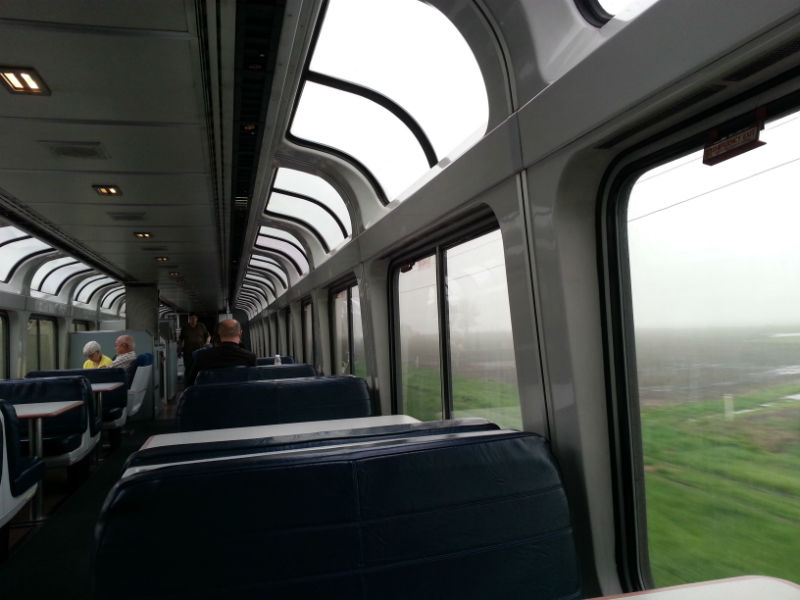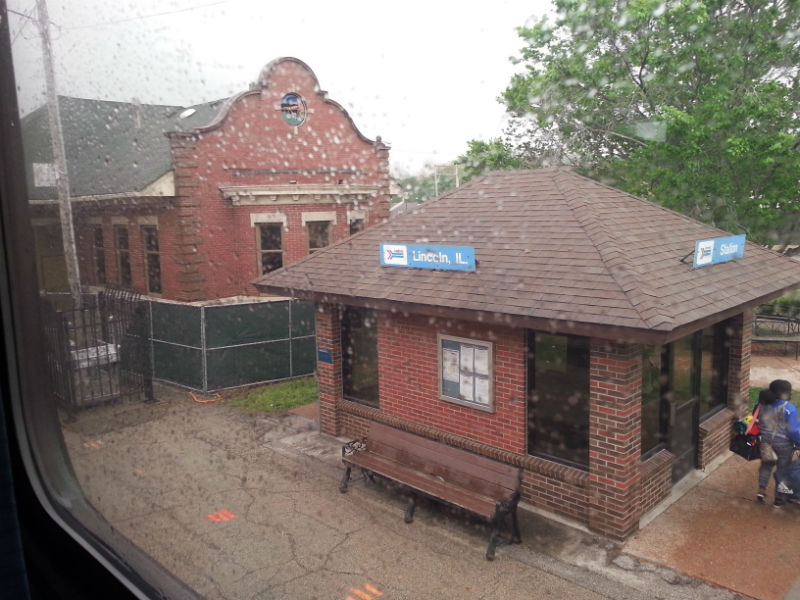 27 April at 11:50 Lincoln, IL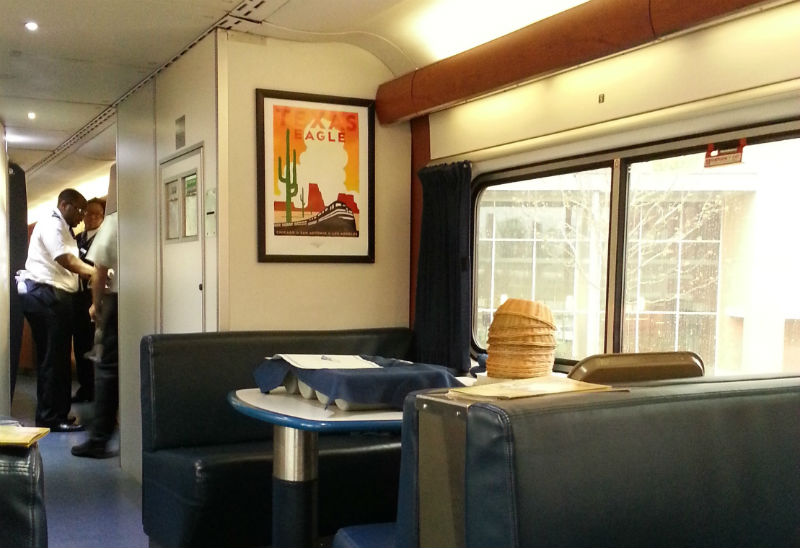 27 April at 12:59 Pontiac, IL Getting some burgers! Burgers were good in the dining car (grilled), but not as good in the cafe car (microwaved)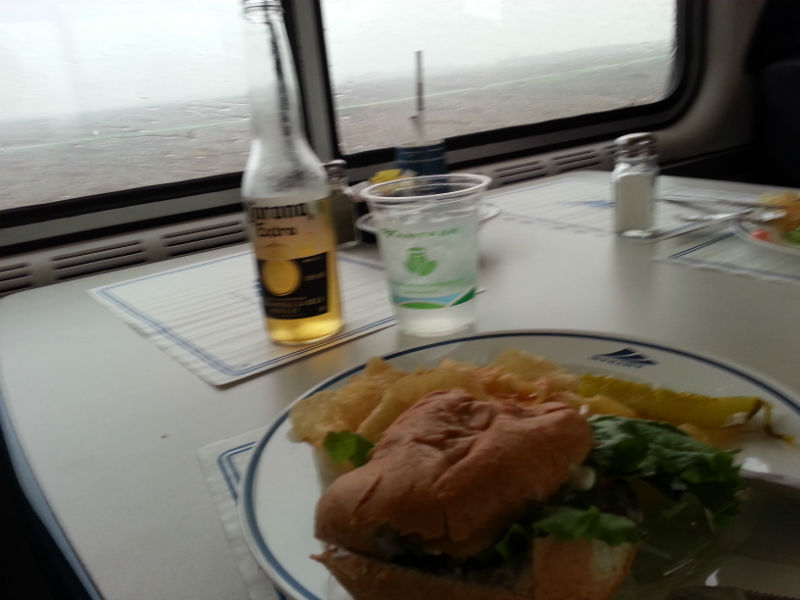 And beer! Beer was good in both dining car and cafe car. They had liquor and wine also.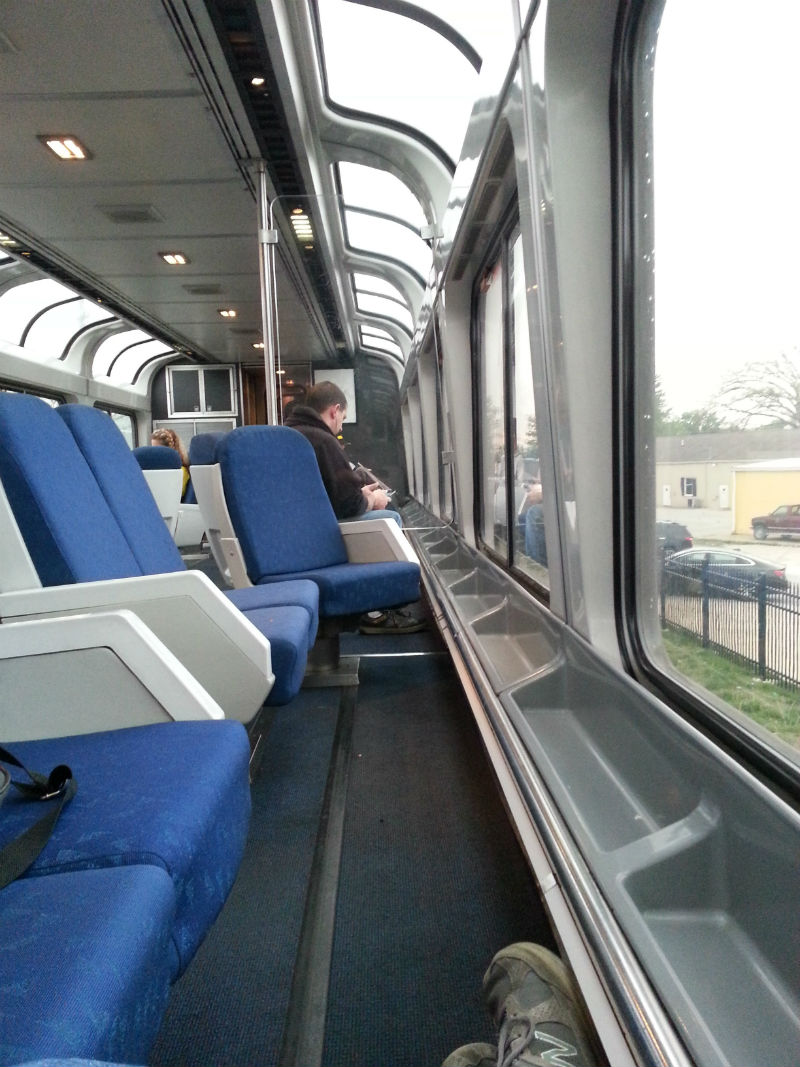 Cafe and Observation car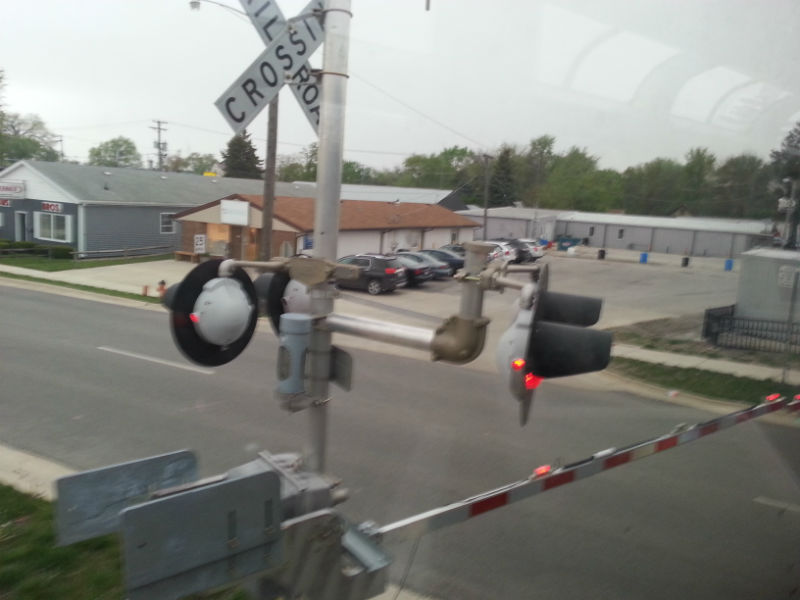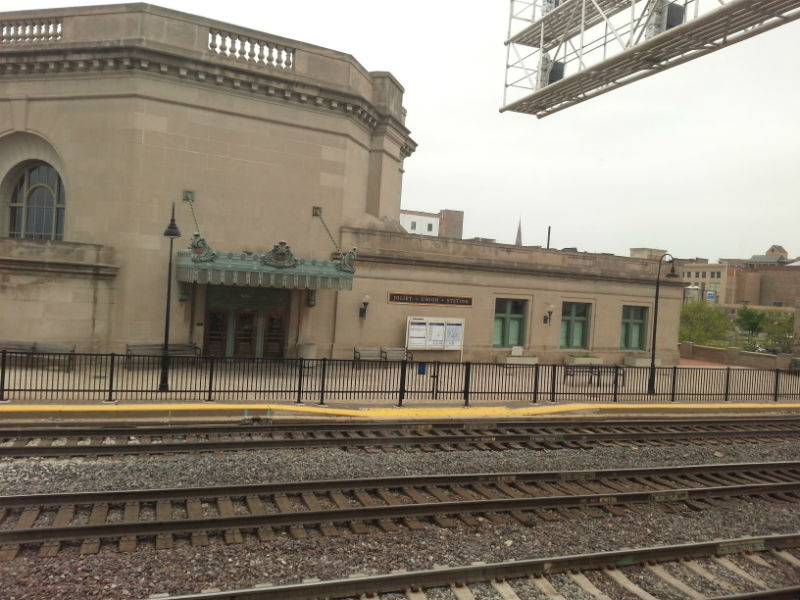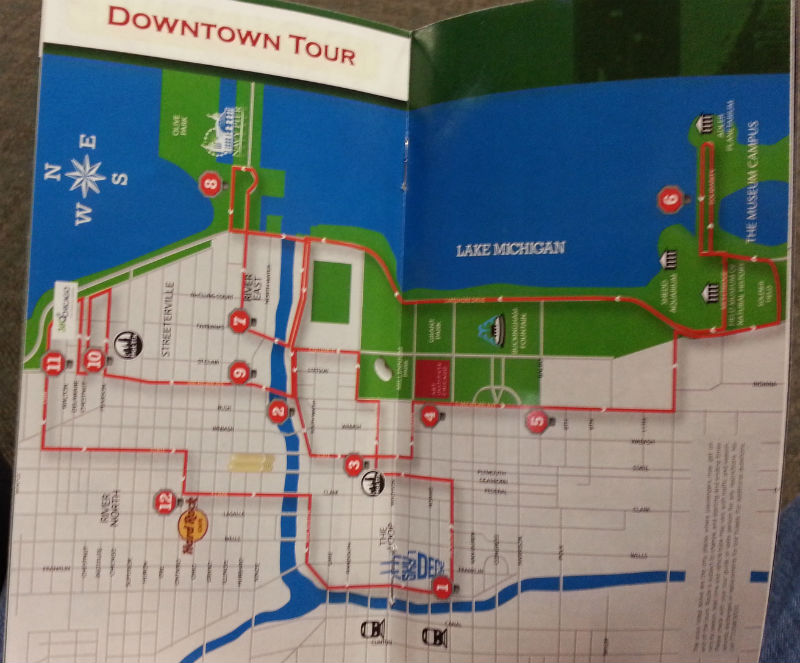 Chicago Trolley & Double Decker Co.

27 April at 19:21 Chicago, IL We got to Chicago about an hour late, but still had plenty of time to do the hop-on hop-off bus tour through Chicago Trolley and Double Decker. Since it was raining, we just hopped on and rode and listened to the tour guide. Pretty nice way to kill a few hours.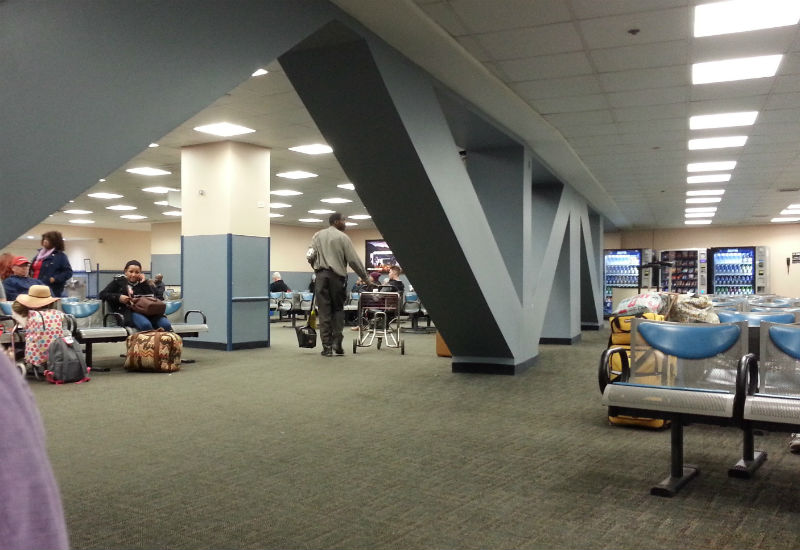 27 April at 19:26 Chicago, IL Two hours to sit...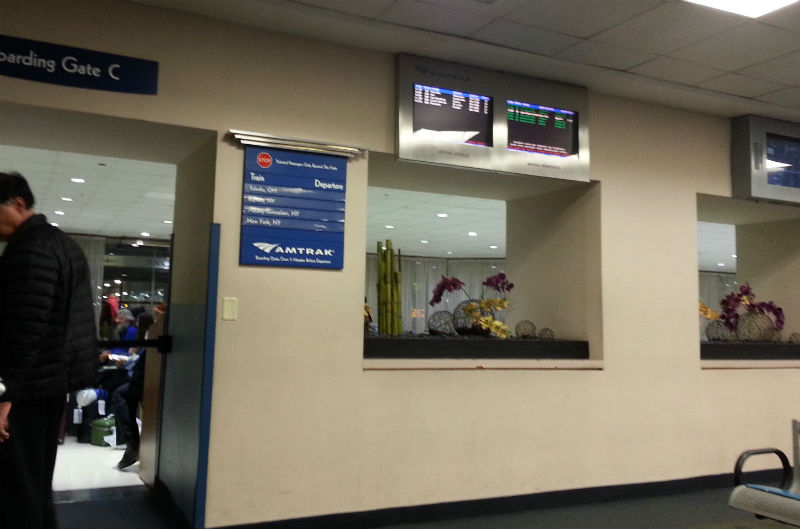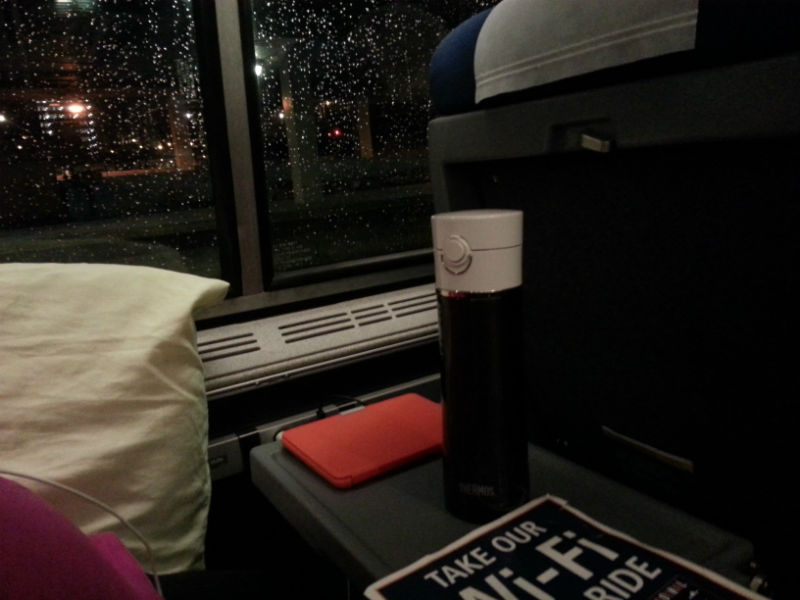 27 April at 21:20 Chicago, IL Just boarded the Lake Shore Limited bound for NY Penn Station and they have WiFi! at Amtrak Chicago Union Station.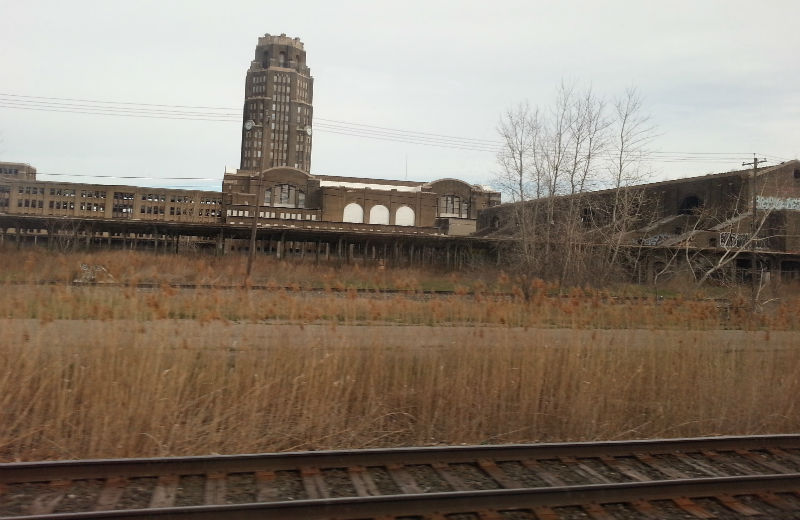 at Amtrak Station - Buffalo-Depew. 28 April at 08:19 Depew, NY Coming in to Buffalo
Buffalo Central Terminal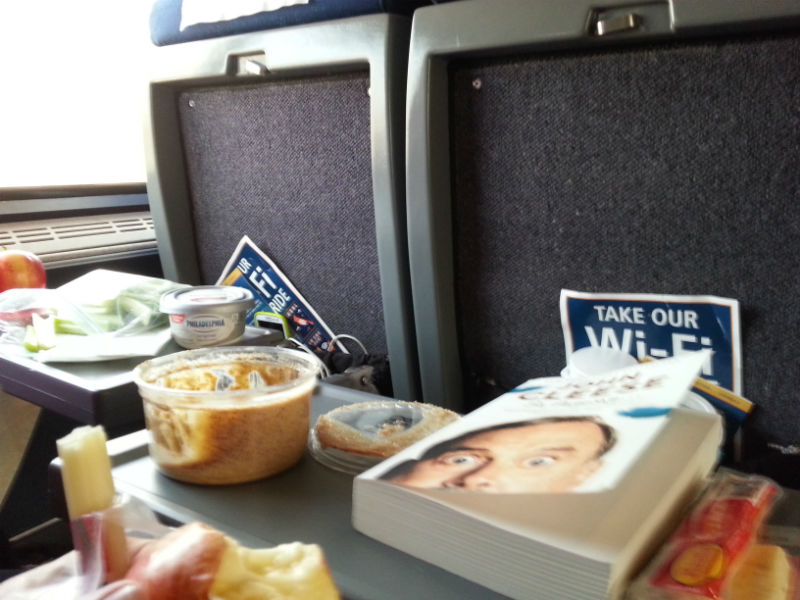 28 April at 10:41 Syracuse, NY Having a snack with John Cleese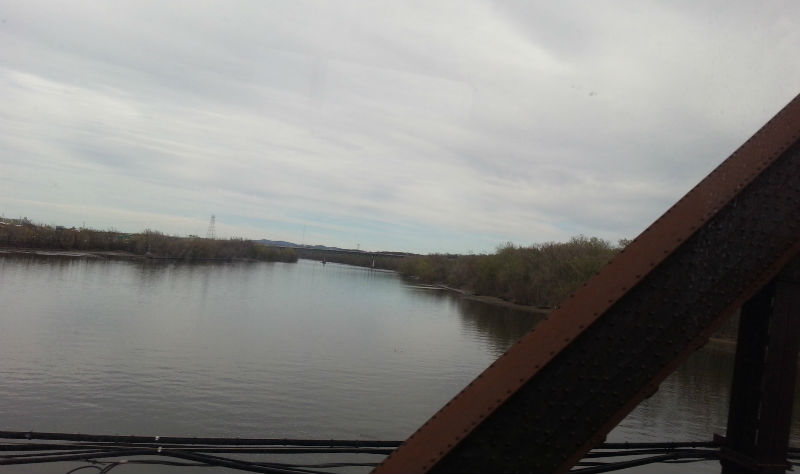 at Amtrak Albany-Rensalear. 28 April at 14:39 Rensselaer, NY Just crossed over the Hudson River into Albany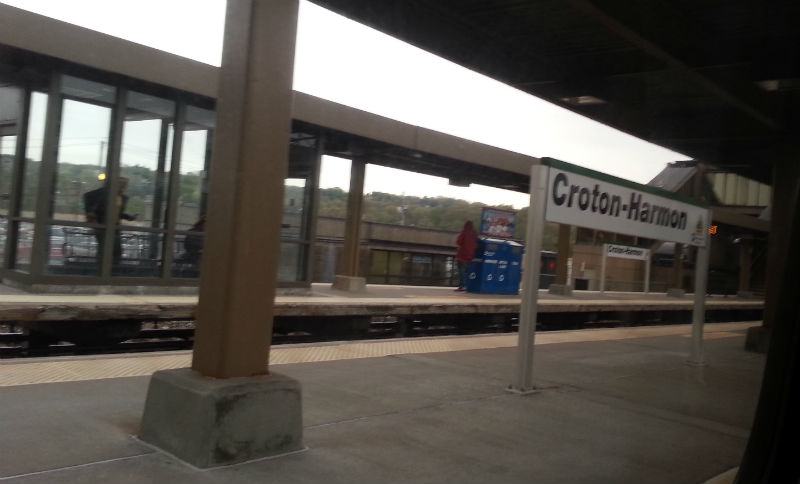 at Amtrak - Croton-Harmon. 28 April at 17:12 Croton-on-Hudson, NY Last stop before Penn Station. Looks likewe're about 45 min late.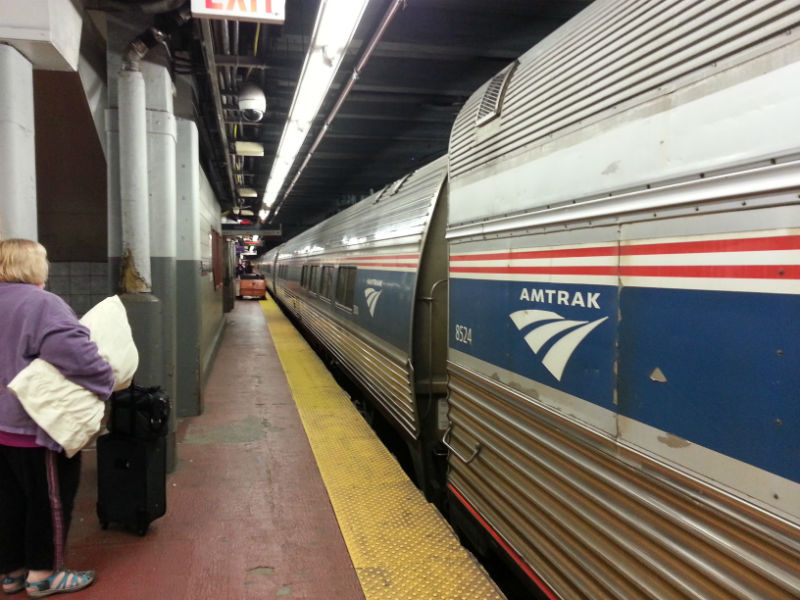 Made it!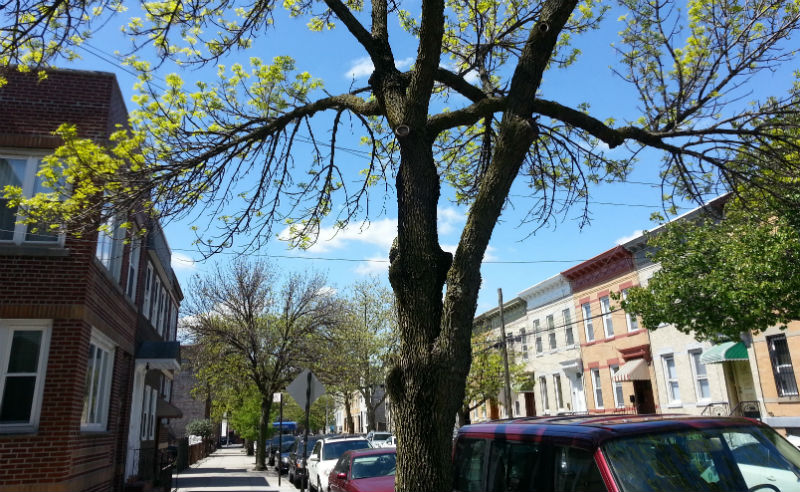 Aaron and Suzanne's street in Ridgewood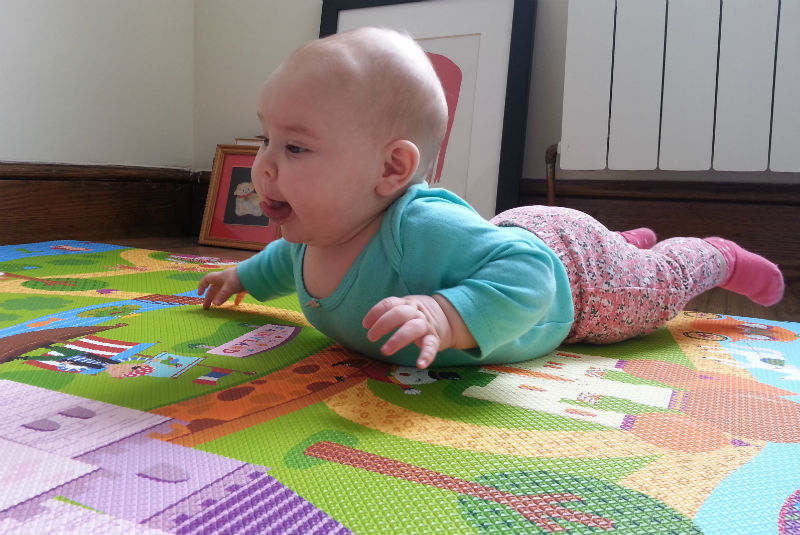 BabyB doing her Supergirl thing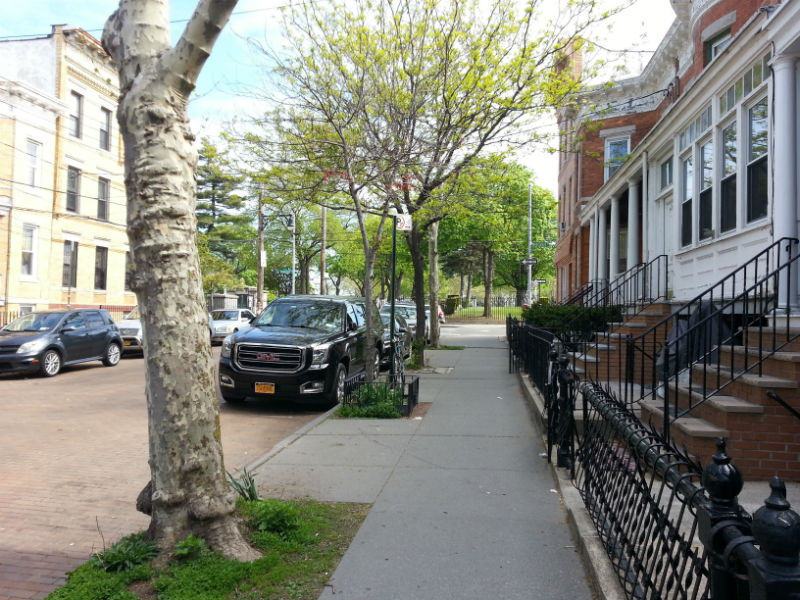 Our street in Ridgewood Queens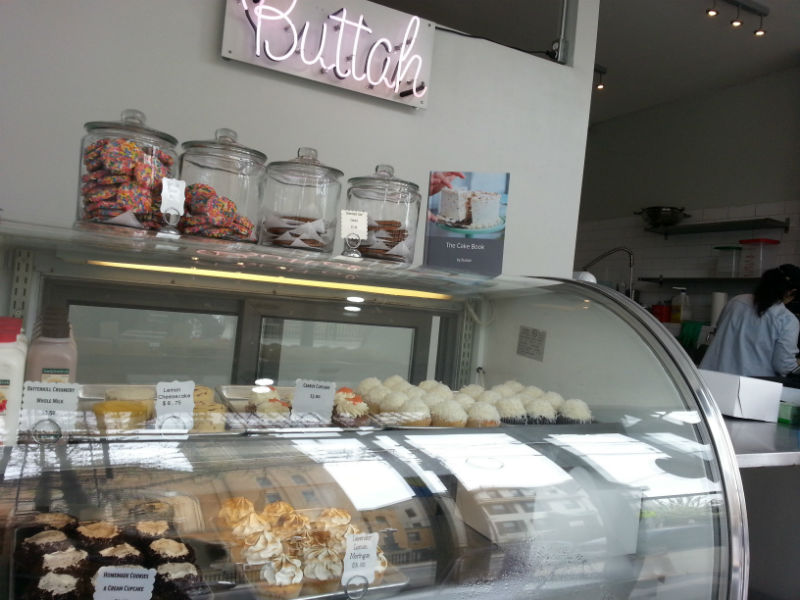 Buttah, just around the corner from us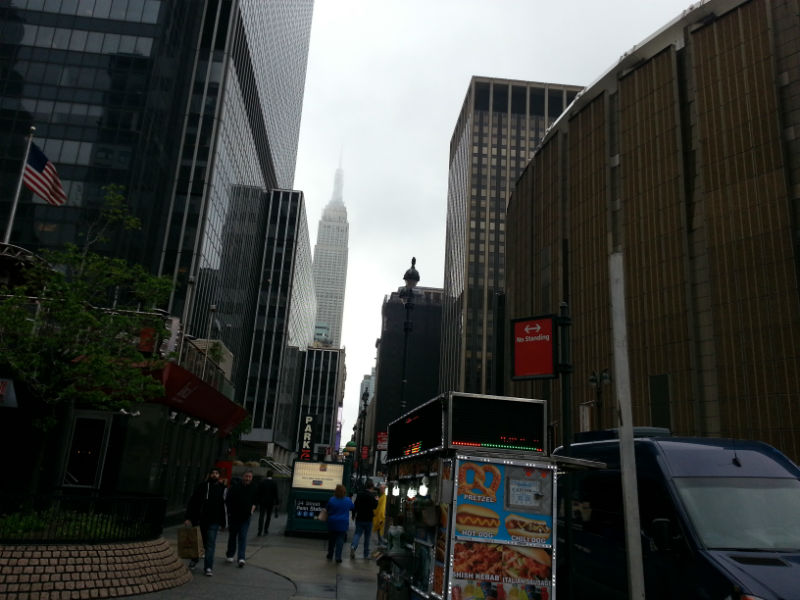 Thanks Aaron for driving us! We'll see you and Suzanne and Baby B soon!
28 April at 19:47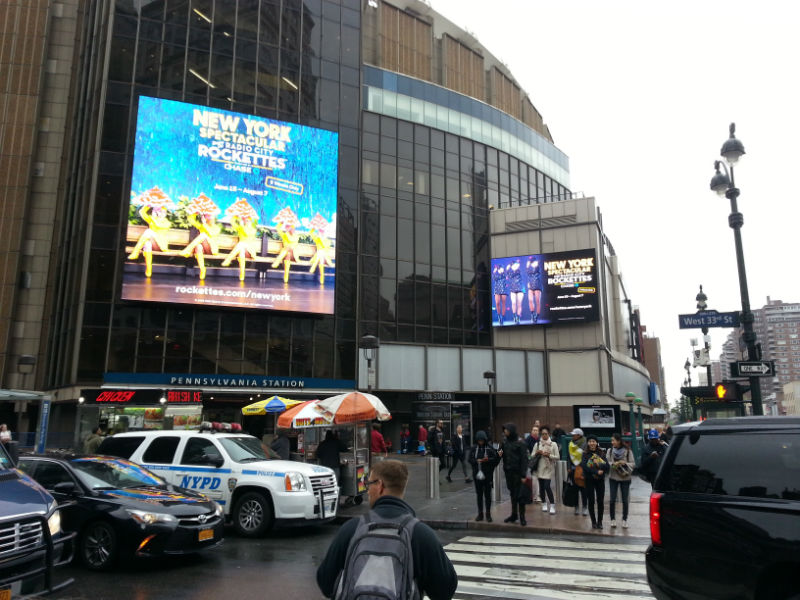 at Amtrak Penn Station NYC. 28 April at 19:46 New York, NY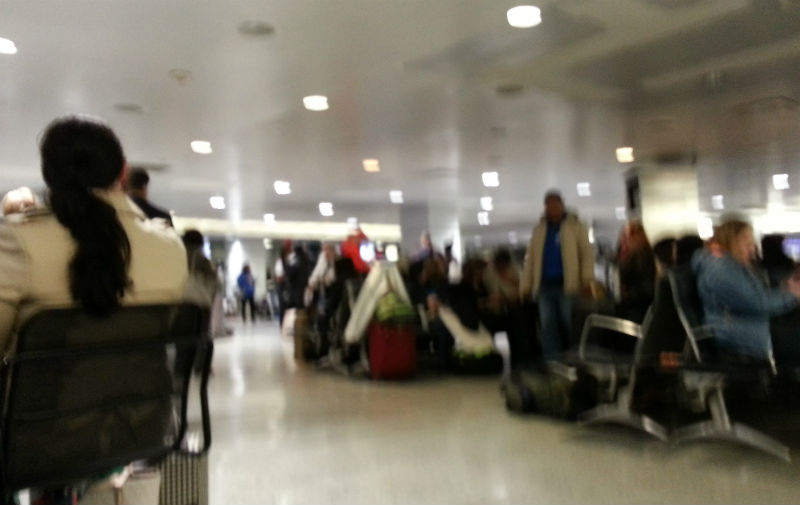 Amtrak Penn Station NYC. 1 May at 13:35 New York, NY Penn Station is crowded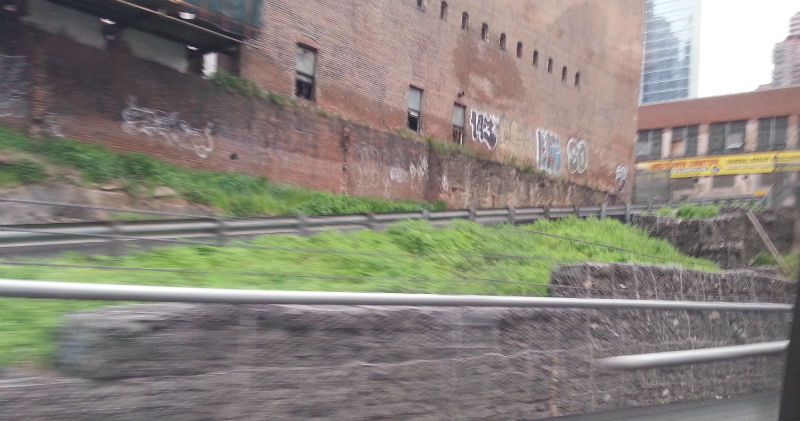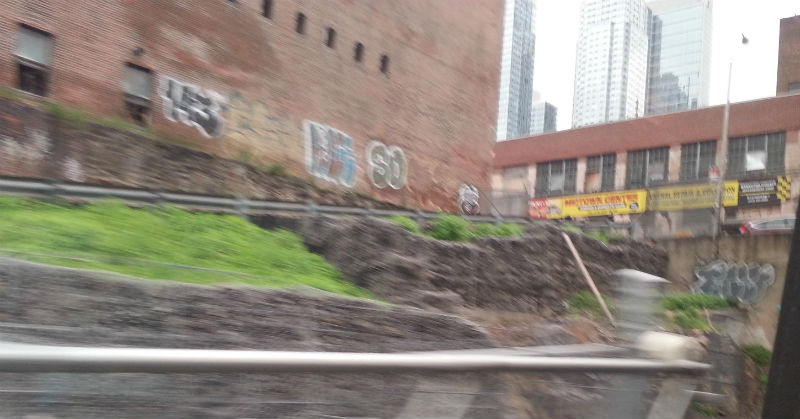 1 May at 14:58 New York, NY Just left Penn Station 5 min late, now we're back underground again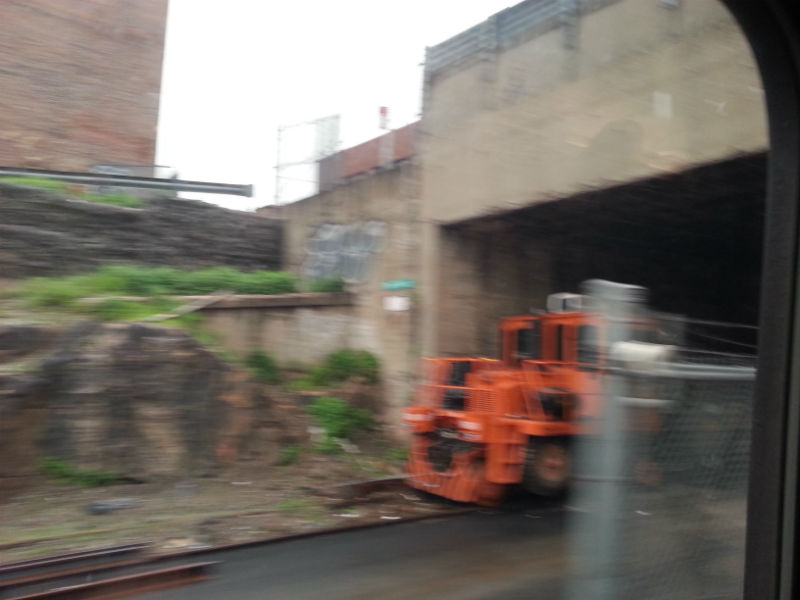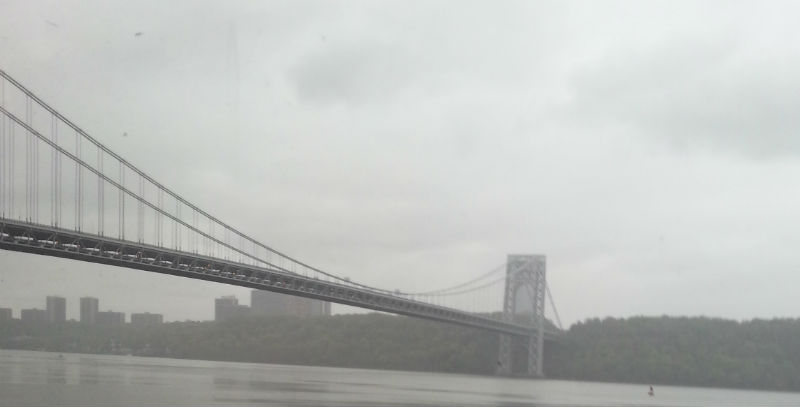 1 May at 15:34 George Washington Bridge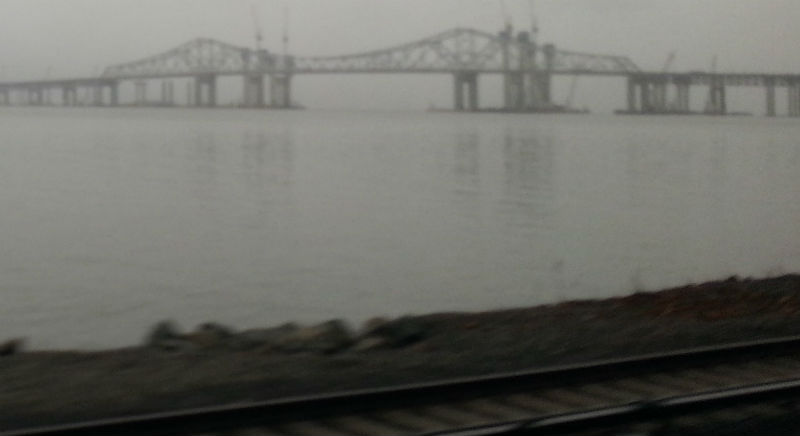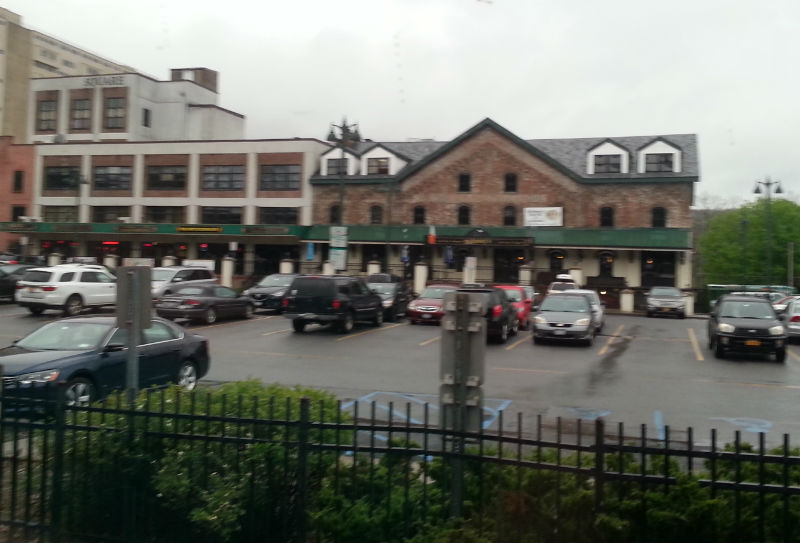 at Poughkeepsie Amtrak. 1 May at 16:18 Poughkeepsie, NY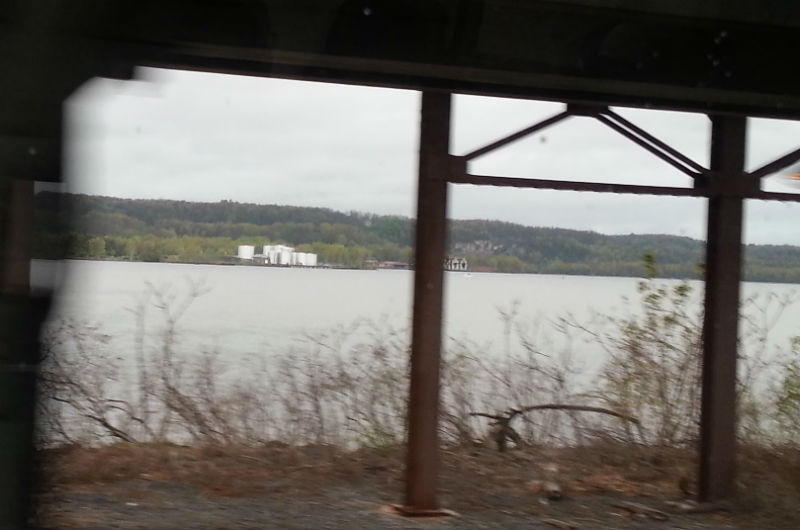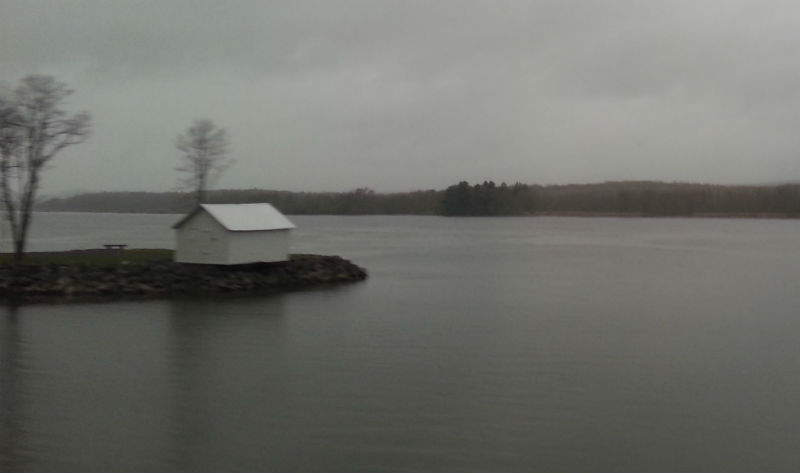 1 May at 16:34 Rhinebeck, NY Hudson River




at Elkhart Amtrak Station. 2 May at 07:33 Elkhart, IN Elkhart Indiana Railroad Museum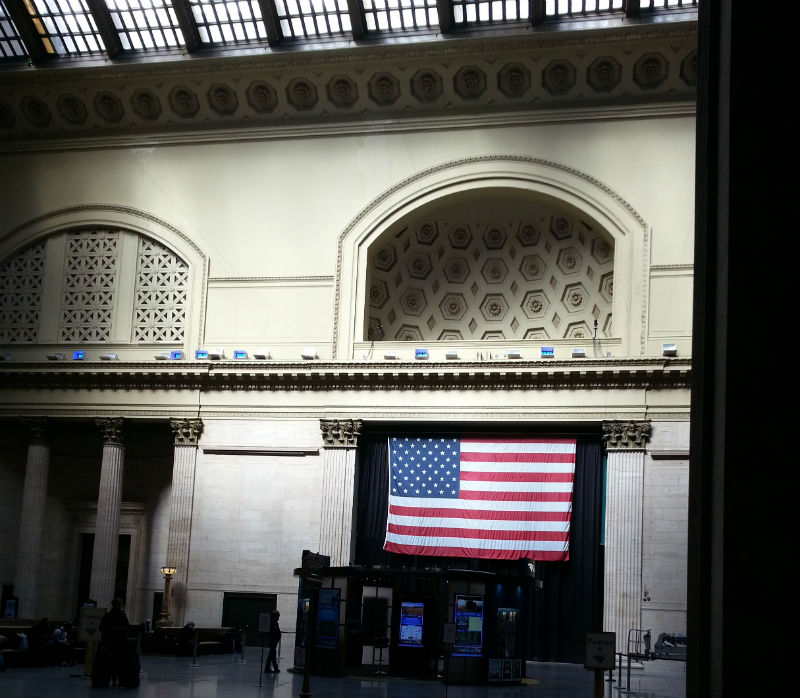 2 May at 09:49 Chicago, IL Chicago! About 10 min early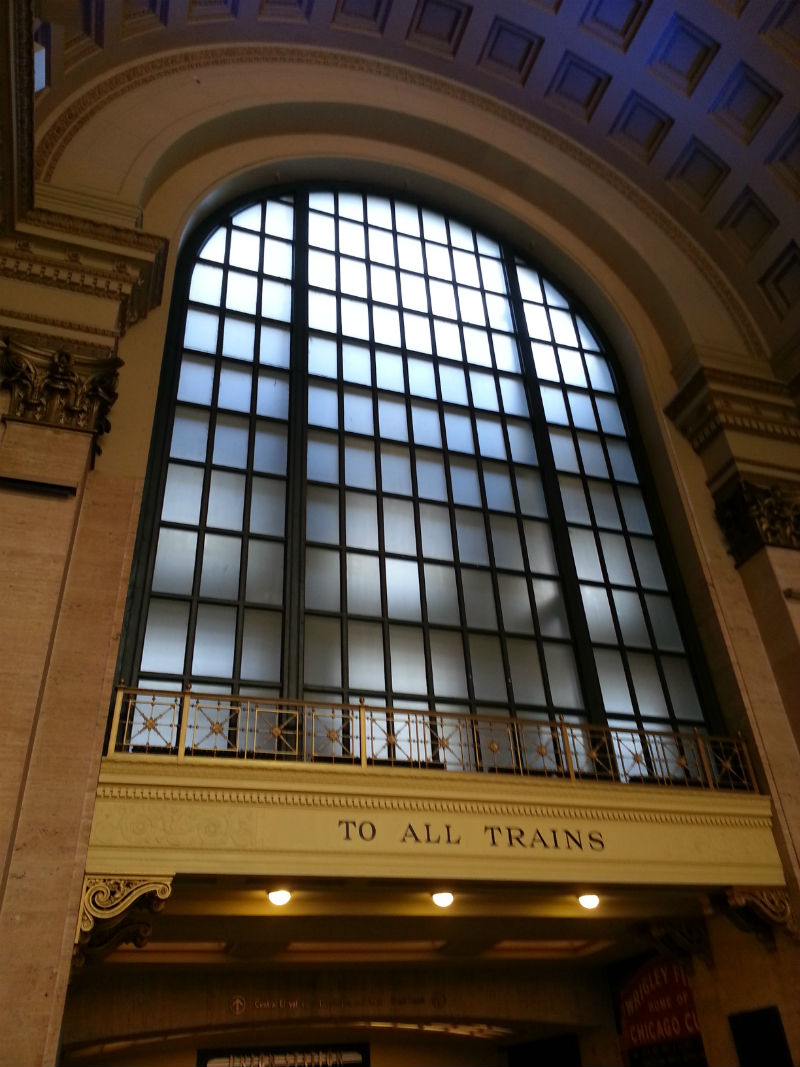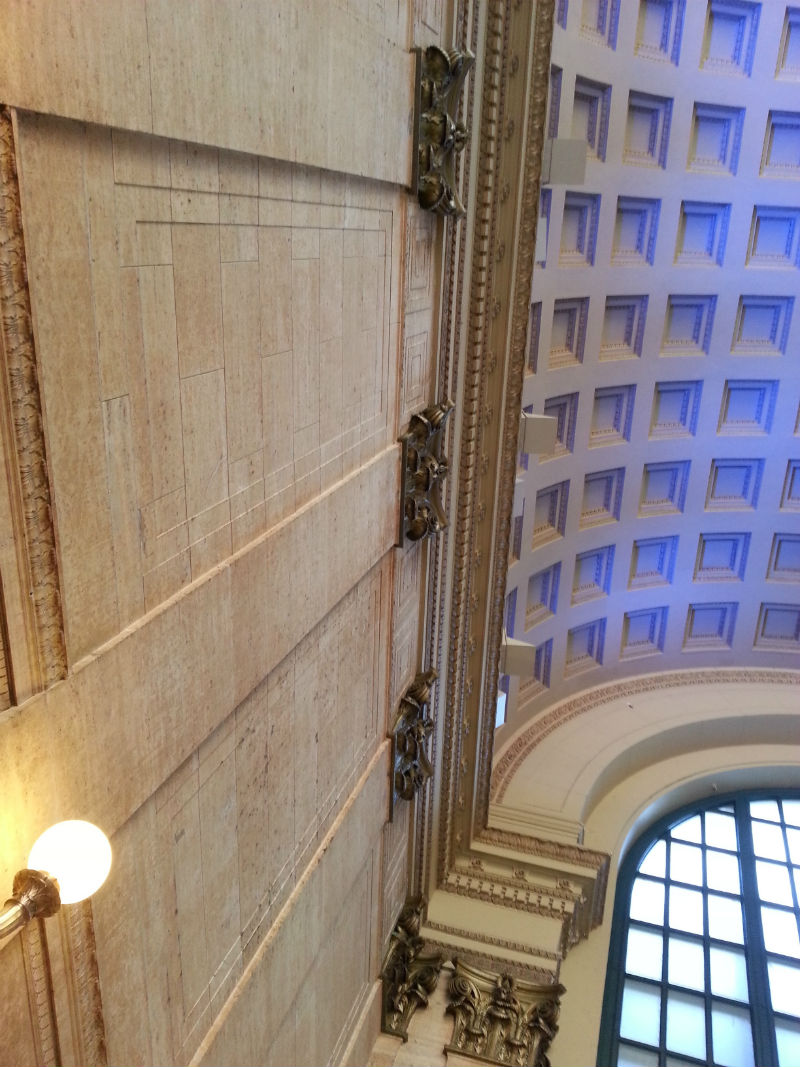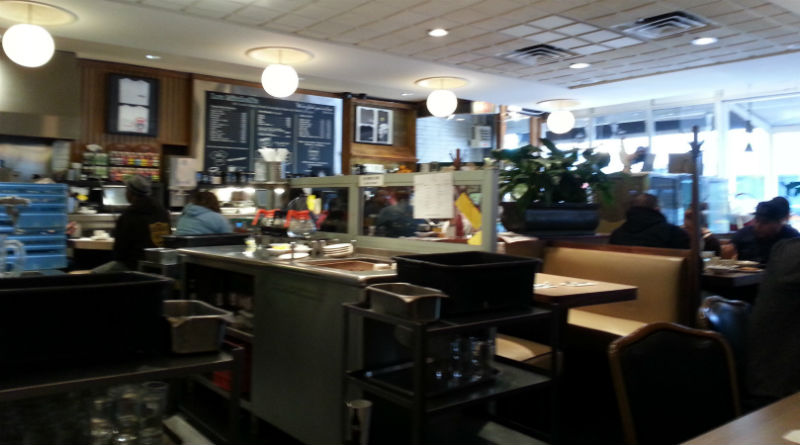 Lou Mitchell's. 2 May at 11:40 Chicago, IL First real food since Sunday at Amtrak Chicago Union Station.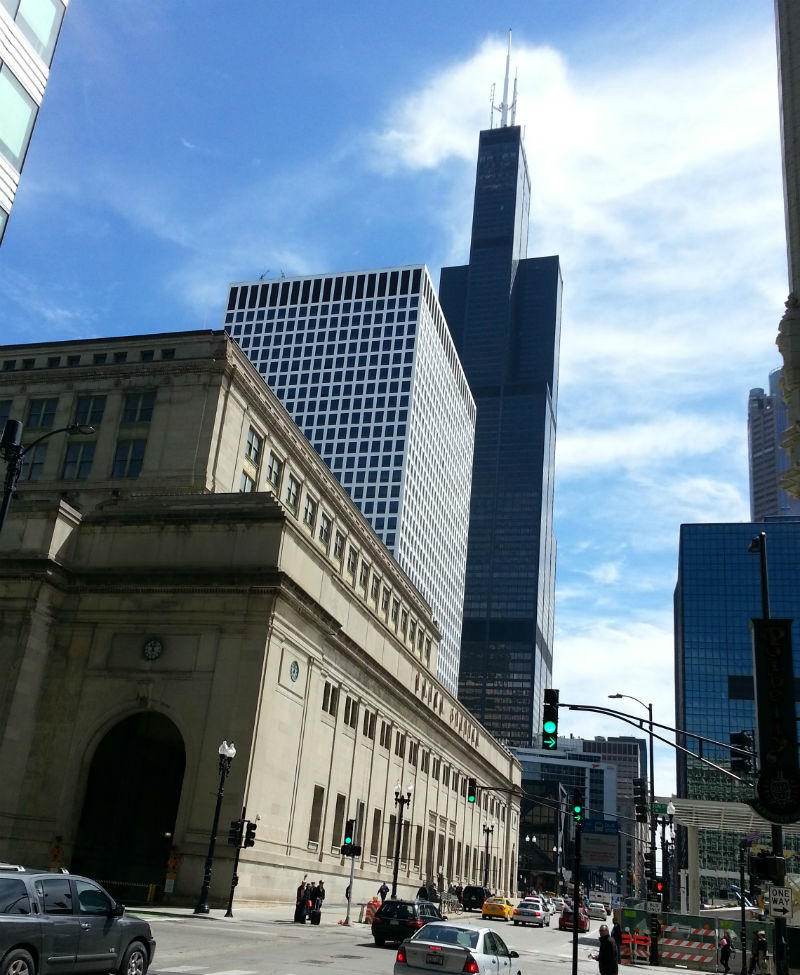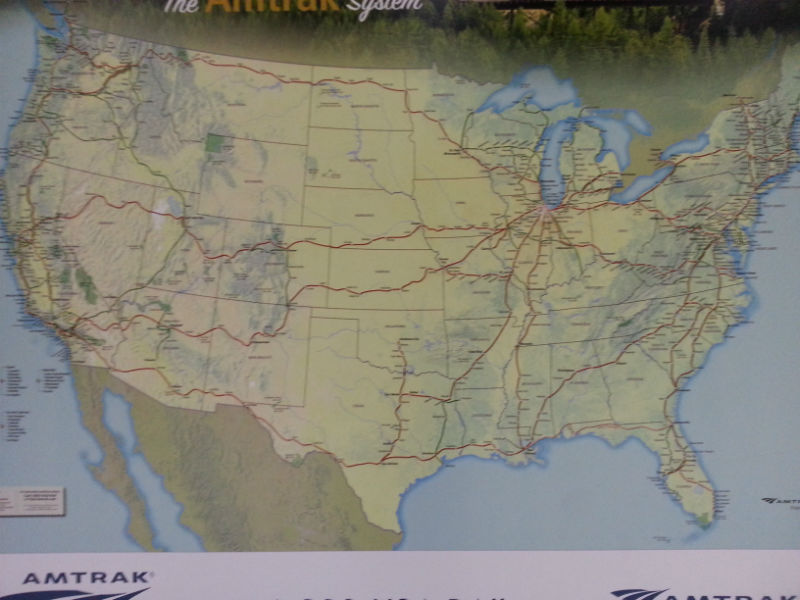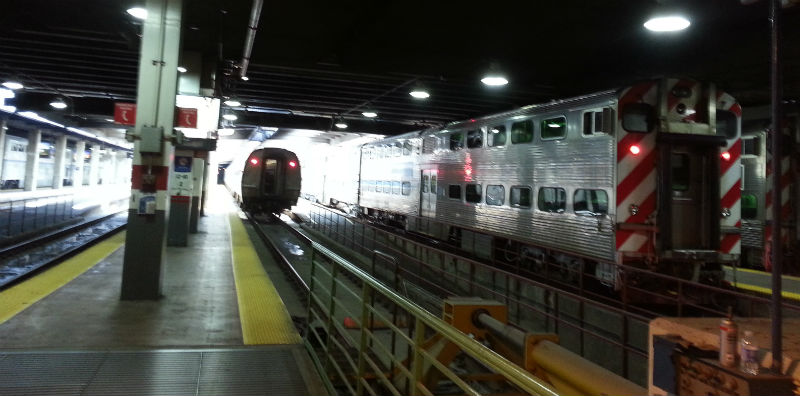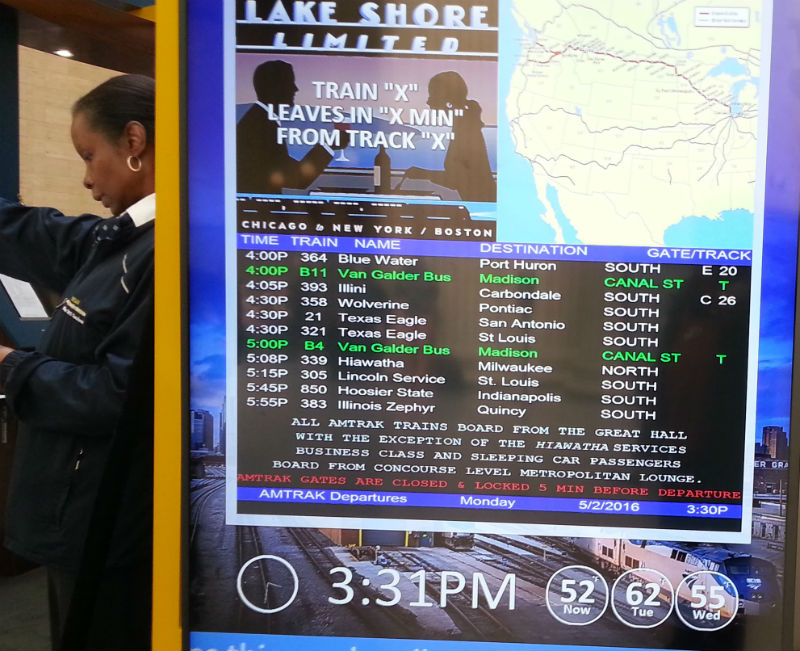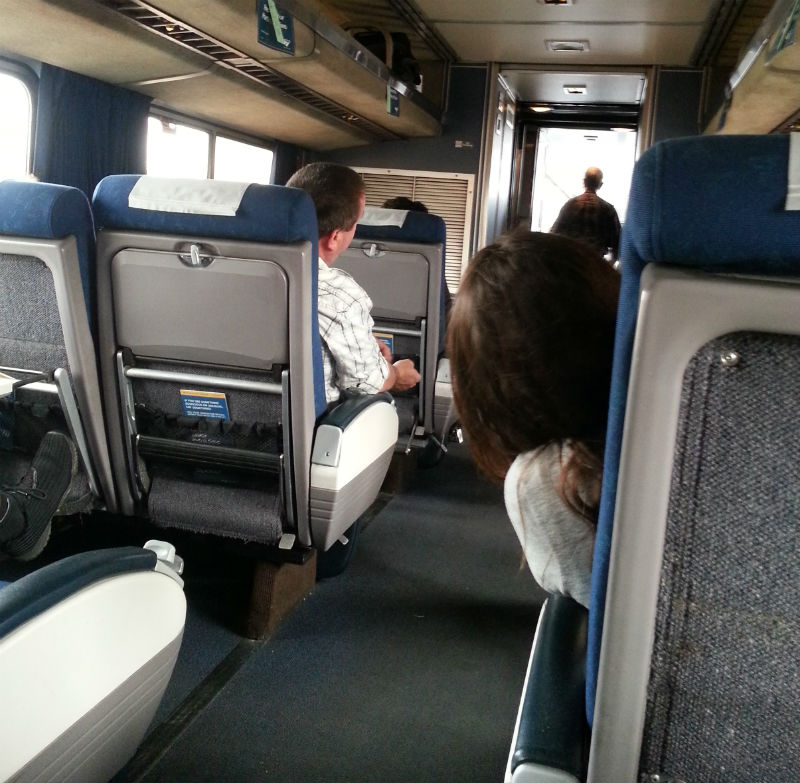 2 May at 17:32 Heading home out of Chicago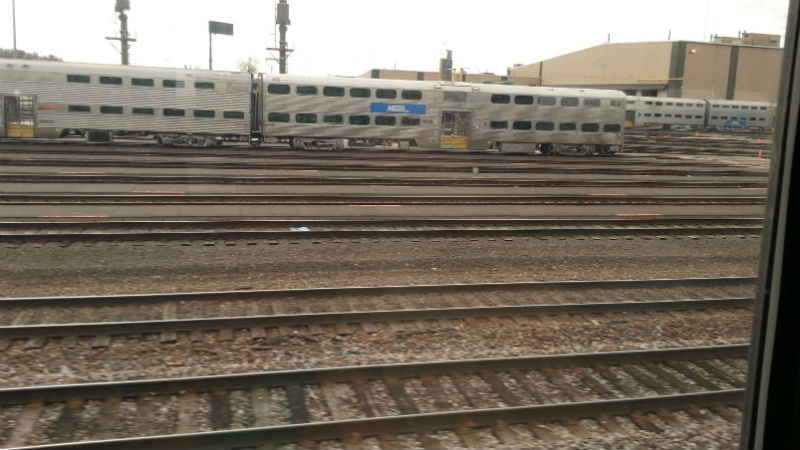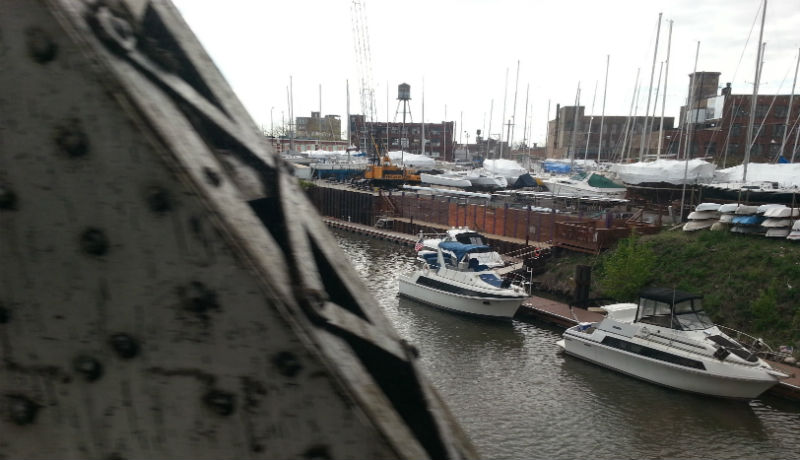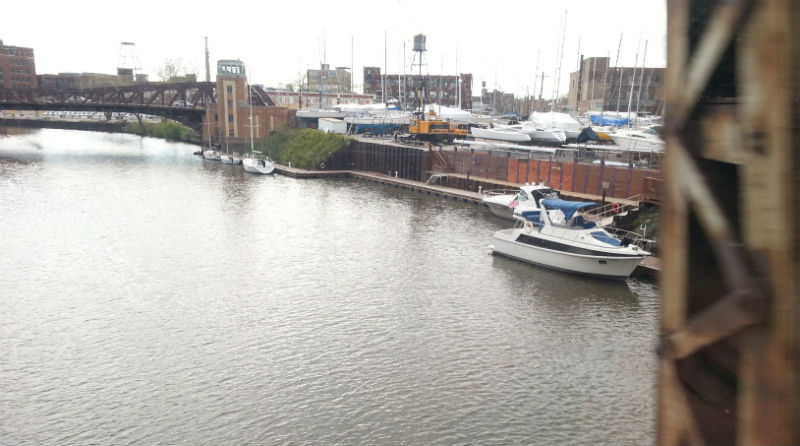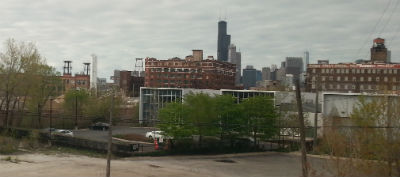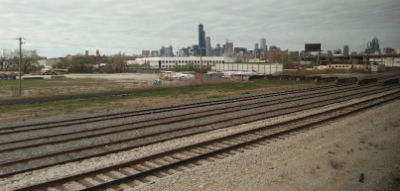 Picked up some sandwiches at the food court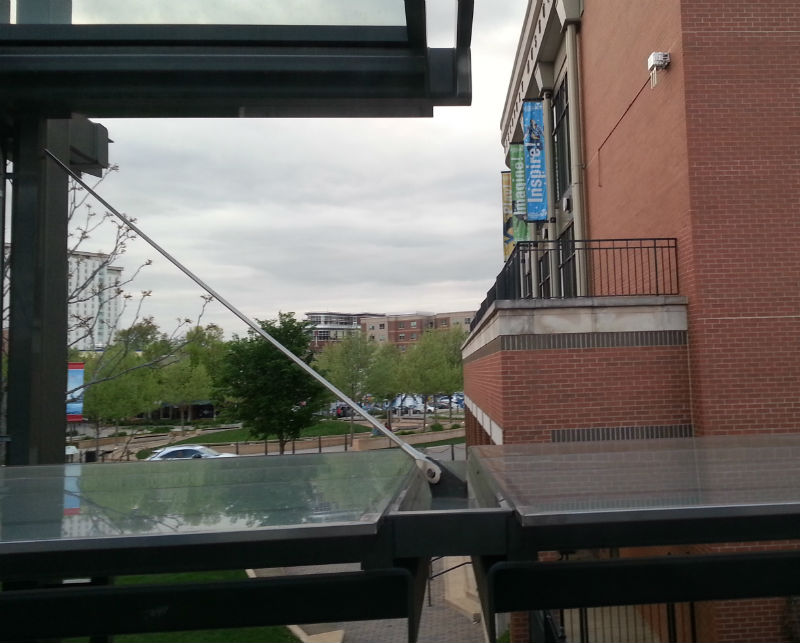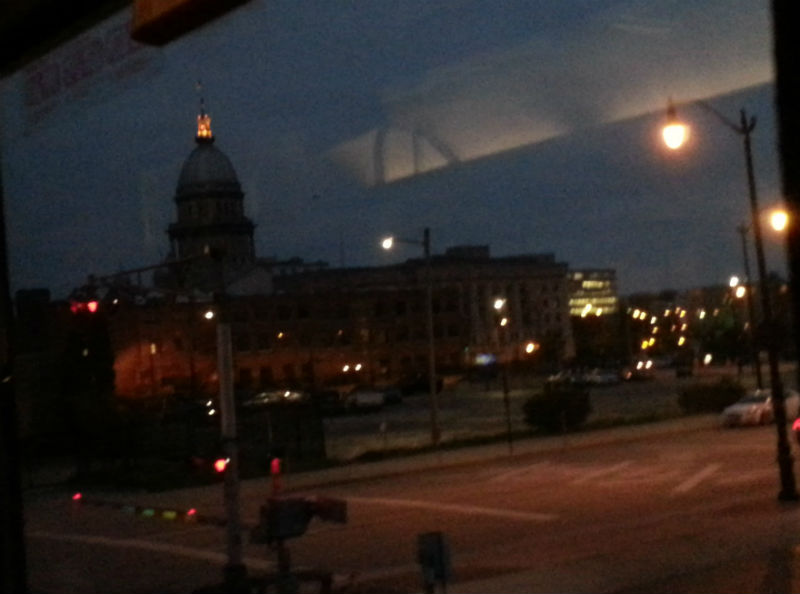 checked in to Amtrak-Springfield. 2 May at 20:11 Springfield, IL

At a standstill, 10 min from Alton. You gotta love AMTRAK.... 2 May at 21:28
Moving! 2 May at 21:31
Stopped! They seem to be working on the tracks at night. 2 May at 21:38
Moving again, faster this time. I think we're going to make it! 40 min late, at this point. 2 May at 21:45

checked in to Crozier Home 2 May at 23:10
Ready to sleep in our own bed tonight